December 9,2019 11:18 / by Renzi Stone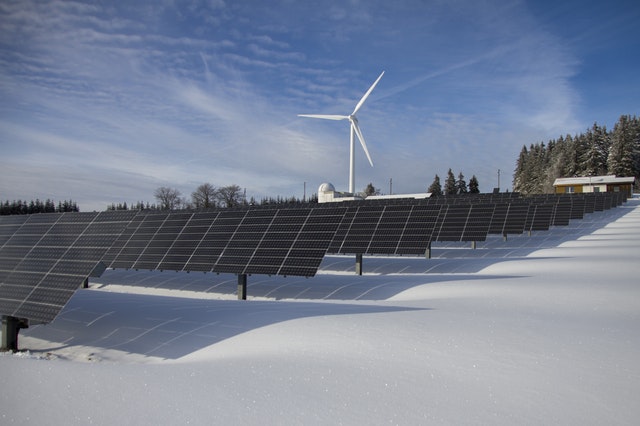 Energy is one of the most critical issues of our generation — how we get it, where we get it, how we move it, and at what cost to producers, consumers, and our planet.
Conversations about energy solutions can quickly devolve into the kinds of tribal politics that are all too common these days. But let's be clear: We can't afford to go off into our own corners and expect to have productive talks about energy matters. All of our energy resources—wind, solar, oil and gas, nuclear energy, biofuel, and more — help our country become more energy independent. An "all of the above" approach to the conversation is a simple recognition of the fact that, at this moment in time, all of those approaches are needed.
Each of the major energy sectors plays a positive role in our overall energy production. Each one creates job opportunities and generates income for different parts of the county. This is what makes me so optimistic that we can talk with and not past each other when discussing energy solutions.
Renewables
Renewables may be small as an overall percentage of the energy economy, but their continued growth is important for our economy and the world. From energy production to automobiles, renewables are gaining more traction every day. Major names are increasingly investing in renewables.
For example, you might not think of Google as an energy company, but right now Google has a hand in well over 50 renewable energy projects. The company is involved with 52 (and counting) renewables projects globally. In addition to its their U.S. renewables projects, Google is also set to purchase around 720 megawatts from solar farms in North Carolina, South Carolina, and Texas.
Two big topics in any energy conversation are jobs and income. Renewables deliver on both. Throughout the Midwest, solar provides more than 45 percent of renewable energy jobs. Plus, more rural electric co-ops (customer-owned utilities) are popping up, bringing solar power — and jobs— to more communities.
Solar isn't the only renewable resource finding traction in the Midwest. Production capacity in wind energy has been on a steady increase in rural areas in the past few years. Wind farms create rental income for farmers leasing land to house turbines, and they provide tax revenue for local governments.
Oil and Gas
Oil and natural gas is not going anywhere. One hundred years of infrastructure in society ensures that, yes, fossil fuels are important to our energy future. The major producers - Oxy, BP, Shell - are all talking about future energy with major investments in public policy, public relations and technology to show they are serious about engaging in issues like climate change. Eventually, the independents and everyone else will follow suit.
The Permian Basin in Texas is still America's strongest and largest oil and natural gas play. Upgrading infrastructure and getting the product to market is important work that must be done especially where there are lots of people like in the NE United States. Combating activism must be done authentically and thoughtfully. Everyone wants a healthy planet.
Nuclear
Even though nuclear is not a growing energy sector, there are some interesting storylines to follow. This past year, for instance, Connecticut included two nuclear power plants in its "zero-carbon" energy contract process. It will be interesting to see if other states consider adding nuclear to their energy mix.
The final episode of Bill Gates' Netflix documentary talks about his compelling logic why nuclear is the world's best option for an energy future.
Fuel Efficiency
You don't need to own a Tesla or get in line for an all-electric Ford Mustang to get on the fuel efficiency bandwagon. Engine-maker Cummins recently announced a new sustainability initiative, with impressive goals set for 2030 and 2050. Their focus is on creating a net-zero carbon future by making improvements at its facilities, throughout the supply chain, and in the products delivered to market.
Putting Up the Money
Talk is great, but it's important to follow the money. Some enterprise-level companies are truly putting their money where their mouth is when it comes to investing in new energy plays. Here are just a few examples of companies investing in early-stage energy projects across many sectors:
Energy will always be a supply and demand game and prices will fluctuate as market and political conditions change. Anyone who believes this latest oil and gas downturn is the end for fossil fuels may be sorely mistaken. That said, each downturn represents an opportunity for all energy firms to think differently about the future. The future, rightly, will rely less on oil and natural gas than it does today. That doesn't make me anti-oil and gas. That makes me a realist.
We are not so naive as to ask all energy players to just get along. But what is crucial in the conversation about energy independence is that we agree to take a look at all of our options as we consider impacts on producers, consumers, and the planet. It's not a one or nothing approach, it's an all-of-the-above approach.
How we talk about energy matters. As we enter a new decade, I predict a new era in energy policy and communication marked by healthier and more collaborative discussion and actions. Not to meet our ideals, but to meet our reality.
Posted by Renzi Stone

I live to influence others who seek to make the world a better place. As CEO of Saxum, an integrated marketing communication consulting agency I founded in 2003, I hope to be described by my peers and critics alike as bold. I've built my reputation by adding value to the lives of CEOs, entrepreneurs and the kid right out of college who is looking for some advice. I'm passionate about the lives of the team I work with at Saxum, a cadre of competitive professionals who can be described as brave, original, lively and driven.
LinkedIn
Twitter