March 13,2020 12:23 / by Renzi Stone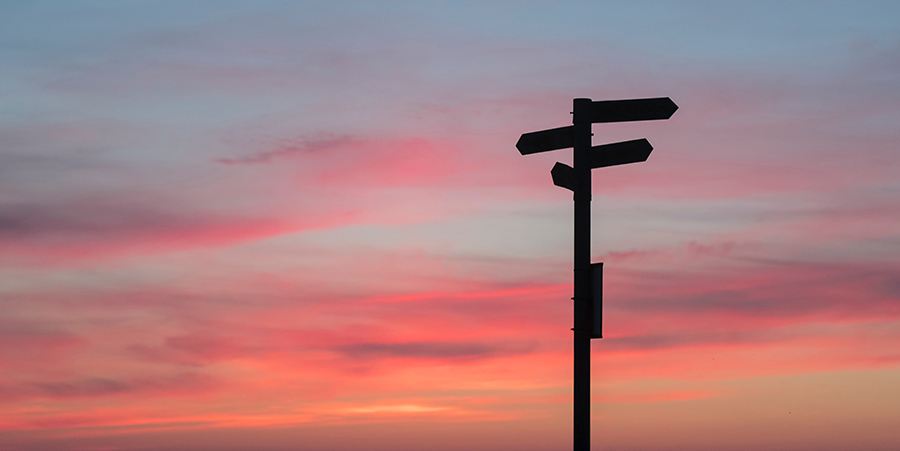 I think it's safe to say that today every business leader is keenly aware that in some way or another the novel coronavirus (COVID-19) is currently impacting communities and industries on local, national, and global levels. But while we don't know what we don't know—and there's much we don't yet know—there are decisions that must be made. Some are big, like should we cancel that conference coming up in May, or do we need to restrict employee travel? Some of them are small, but carry their own consequences, like should we allow people to come into the office if they have a headache or are experiencing allergy symptoms? Or even how do we define our criteria for working from home?

The future is uncertain. That statement is true today and will be true tomorrow and every day moving forward. Managing the degree of uncertainty is what many organizations and their management teams are wrestling with right now.
That degree of uncertainty, in this particular situation anyway, begs the question: Are our reactions to the current pandemic appropriate? Are we, for instance, canceling an event because it is the right thing to do, or are we canceling because the scrutiny of predicting the future is too difficult—so we're taking the path of least resistance? These are very different reasons for taking action and figuring out the drivers of our reactions, in this current situation or in a future one, can help us make the right decisions.
Leading in An Age of Uncertainty

Today, tomorrow, and in the days that follow, you will have big and small decisions to make in the midst of varying degrees of uncertainty. What is your strategy for communicating your path forward into the uncertain future? Lately I've been enjoying reading the work of Geoffrey Garrett, the Dean, Reliance Professor of Management and Private Enterprise and Professor of Management at the Wharton School of Business. In his recently-published LinkedIn article, Garrett tackled the topic of leadership in uncertain times: Leading in Our Uncertain Times: Be Real — Not a Hero. Garrett makes the observation that we are living in an era characterized by unprecedented uncertainty, which has three defining characteristics: Everything is unpredictable, everything is faster, and everything is questionable. Garrett suggests that rather than have those characteristics immobilize us, as leaders, we need to recognize our limitations, seek guidance from the experts around us, and communicate calmly and, perhaps, in new ways.
If you're interested in a deeper dive on this topic, below is a video of Garrett interviewing Mohamed A. El-Erian, Chief Economic Advisor to Allianz and Senior Global Fellow of the Lauder Institute for a conversation entitled: "Unusual Uncertainty: The World in 2020 and Beyond" as part of the Tarnopol Dean's Lecture Series at the Wharton School. It's a terrific discussion—I think you'll like it.
Strategies for Managing Decisions in Uncertain Times
We know that uncertainty is a given, unpredictability is the norm, the world is moving faster than ever before, and everything is questionable. But we still have businesses to run, clients to serve, employees to keep safe, and families and communities that need us. Here are four specific strategies you can use in managing decisions in uncertain times:
Cancel calmly. If you do decide to cancel an event, activity, conference, or meeting in the future, do so calmly. This means a recital of the facts available to you right now and an explanation to others of whether you anticipate rescheduling. What might seem like over-communication in a situation with a lesser degree of uncertainty is probably the right amount of communication today. With facts in hand, being calm gives others a sense of confidence that the decision you're communicating was not a reaction out of panic, but rather a thoughtful outcome when considering an uncertain future.

Being uncertain is actually okay. As Geoffrey Garrett says, we are living in an age personified by unprecedented uncertainty, but it's probably safe to say that most people don't think that way. That's why, especially in times of crisis, it's a good idea for leaders to communicate that being uncertain is okay. In fact, uncertainty is actually a bit of a given. And being honest with your audience, be it the clients, conference attendees, employees, or others is what counts. If you're not sure whether a meeting or an event can or will be rescheduled, held virtually, or in some other fashion, simply tell people that, and assure them that as more information becomes available and you're better able to assess the situation, that you'll quickly communicate further information. Not having all the details is fine, and it's an honest assessment. Telling your audience that will go a long way toward assuring them that you've got this situation well in-hand and that they can trust you to provide more information and next steps to expect as you have it.

Get comfortable with the virtual you and use this opportunity to hone your use of technology. I'm not sure we will ever meet in person in quite the same way and this is the perfect time to have your clients, peers, and colleagues get comfortable with the virtual you. For some, this may mean honing your technical skills and embracing video communications and collaboration platforms you might be unaccustomed to.

I've put this into practice over the course of the last year and it's been a great experience. What I've done to train myself to use video communication tools is simple: Whenever possible, every time I've picked up the phone to call someone, I've called them via FaceTime on my iPhone. Most answer the call the same way, asking, "Did you mean to FaceTime me?" My response: "Why, yes, I did!" And we talk about whatever it is we need to talk about face-to-face, looking into one another's eyes. Sure, sometimes it takes a minute to get accustomed to, but it's pretty cool when you think about it, and even cooler when you practice it.

This shifting of my own personal communication style has taught me that when we utilize audio and video technology to connect, we have a better chance of getting outcomes that would normally only happen in person. Zoom, Google Hangouts, and FaceTime are popular platforms for video conversations. There are also popular collaboration platforms like Slack, Cisco's Webex, Microsoft Teams, and others that can be used for both internal collaboration (e.g. messaging, document sharing, meetings, etc.), as well as external collaboration with clients and partners. Whatever combination of tools you might use, I encourage you to get comfortable with the virtual you—turn that video camera on and look people in the eyes and lead your clients down that path as well. Before long, this kind of communication will be the norm and you'll be an early-adopting pro.
Being Adaptable is Key. Technological changes have given us something of a leg up on managing important decisions in uncertain times, and I'm a believer that being adaptable is key. For instance, as it relates to travel—a given in today's business world. But in today's uncertain times, if travel feels like something that should be curtailed, adapting and moving to video conferencing and meetings is a quick and easy pivot.



Remote work is another topic on which adaptability is key. Working away from the office is already the norm for many, but if your company hasn't yet experimented with remote work, now is the time to perhaps give it a try. Quickly developing and implementing remote work policies for short or long-term is not as challenging as it once seemed. Most of the tools people need for work are available whether everyone is in one office or they are distributed remotely around the globe
Bottom line, I don't have to tell you that leadership in uncertain times is challenging, chances are good you're living that on a daily basis. As business leaders and managers, making big and small decisions in uncertain times goes with the territory, and people look to us for guidance, direction, and honesty. I found a lot of what Geoffrey Garrett had to say on the topic of leading in uncertain times incredibly insightful and I thought you might as well.
Hopefully my suggestions on canceling calmly; accepting that a certain amount of uncertainty is not only a given, it's okay; that the idea of getting used to the virtual you and honing your technology skills is a smart one; and that being adaptable is truly the key to navigating difficult or uncertain times are helpful to you. I know they've been helpful to me and to our leadership team as we have worked to embrace uncertain times. Most of all, let's remember that we are all in this together, and together we will figure out this new normal, our uncertain future, for today, tomorrow, and beyond. And if I can help you in any way, I'm in — let's FaceTime!
Posted by Renzi Stone

I live to influence others who seek to make the world a better place. As CEO of Saxum, an integrated marketing communication consulting agency I founded in 2003, I hope to be described by my peers and critics alike as bold. I've built my reputation by adding value to the lives of CEOs, entrepreneurs and the kid right out of college who is looking for some advice. I'm passionate about the lives of the team I work with at Saxum, a cadre of competitive professionals who can be described as brave, original, lively and driven.
LinkedIn
Twitter